Bay Gardens Resorts
Rodney Bay Village
Home to our trio of Bay Gardens hotels, Rodney Bay Village is affectionately known as the 'place to be' in St. Lucia.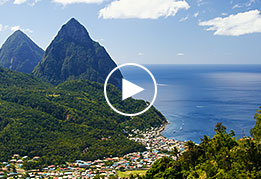 Discover St. Lucia
With two of the island's largest shopping malls, St. Lucia's only casino and an almost endless array of internationally and locally-inspired restaurants and bars, Rodney Bay Village has made its mark as the entertainment and nightlife capital of St. Lucia.
Home to St. Lucia's Best Restaurants
Rodney Bay is the perfect place to explore St. Lucia's culinary diversity. All within walking distance of the Bay Gardens Resorts properties, you'll find authentic local fare and Caribbean fusion style cuisine as well as Chinese, French, American, Indian, Mediterranean and Spanish food.
The Best Beach in St. Lucia
With its glistening Caribbean waters, long stretch of white sand and awe-inspiring views of the horizon, Reduit Beach tops the list as the best beach in St. Lucia. Not only is ideal for catching some rays during the day, but at nightfall, it offers exquisite Caribbean sunset views.
St. Lucia's Nightlife & Entertainment Destination
To experience real St. Lucian nightlife, there's no better place to explore than Rodney Bay Village. Restaurants, bars and clubs offer regular entertainment with live bands, DJs and Karaoke, while Treasure Bay Casino delights with Vegas-style gaming. On Friday nights, St. Lucia's legendary Friday Night Street Party or 'Jump Up' attracts a huge crowd of locals and vacationers alike. Everything you need to enjoy the ultimate island nightlife experience is within easy reach when you stay on a Bay Gardens property.
The Best Shopping in St. Lucia
Rodney Bay Village is home to a terrific selection of shopping malls and stores. Baywalk Mall and JQ Rodney Bay Mall are two of the island's largest shopping centers and are both located directly in Rodney Bay. Stores and boutiques include MAC Cosmetics, Diamonds International, Nine West, U.S. Polo Assn., Hugo Boss and Skin Science.